What a Wonderful World This Could Be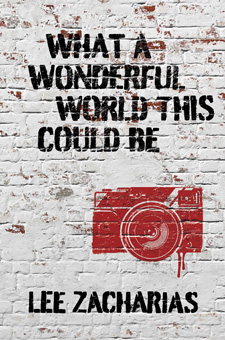 What Alex, illegitimate daughter of an alcoholic novelist and an artist, has always wanted is family. At 15, she falls in love with a 27-year-old photographer, whom she will leave when she comes under the spell of Ted Neal, a charismatic activist on his way to Mississippi for 1964's Freedom Summer.

That fall Ted organizes a collective that turns to the growing antiwar movement. Ultimately the radical group Weatherman destroys the "family" Alex and Ted have created, and in 1971 Ted disappears while under FBI investigation.

When Ted surfaces eleven years later, Alex must put her life back together in order to discover what true family means.
Awards
Praise
Lee Zacharias brings the 1960s and 80s to life with a poet's precision and a novelist's sense of drama in this luminous, riveting story. Spare, unflinching, and deeply compassionate, What a Wonderful World This Could Be is both a historical novel about political, artistic, and sexual awakening (and re-awakening), and a powerful mirror for our own time. I was gripped from the first page to the last. Alex's journey from brilliant, neglected teen to mature artist broke my heart and renewed my faith in humanity in equal measure. This novel is a gift.
Abigail DeWitt, author of News of Our Loved Ones
What a Wonderful World This Could Be, Lee Zacharias's incantatory novel, is a complex, generous, unflinching portrait of Alex—a romantically conflicted, artistically gifted young woman who comes of age during the tumultuous sixties. Reading it is like hearing Dylan or Joni Mitchell or Leonard Cohen, but for the first time. There isn't a smidgeon of nostalgia or sentimentality here. In fact, the world it invites us into couldn't feel more timely or more true. It's about loss and love and about how we can't know one without the other.
Tommy Hays, author of The Pleasure Was Mine
"At the center of every art is a question of allegiance," Lee Zacharias writes in What a Wonderful World This Could Be, a riveting novel that foregrounds the personal fallout of the political maelstrom that was the American Radical Left in the 1960s and '70s. Zacharias's allegiance is to a narrative that refuses compromise in its revelations of the highs and lows of fighting for a just cause in an unjust world, and the price photographer Alex pays for seeing clearly what others around her will not: in life, as in politics, actions have consequences, many of them irreparable.
Kat Meads, author of For You, Madam Lenin
One of our finest novelists and a first-rate photographer, Lee Zacharias weds visceral language with lush visual imagery as she modulates main character Alex's voice to match shifts in time that dramatically render her unforgettable experiences as a 15-year-old who falls in love with a 27- year-old photographer, as the wife of a 60's New Left activist, and as a photography professor who, in 1981, reconnects with her first love. What a Wonderful World This Could Be is about art, it is about political change, but most of all it is about enduring love.
Allen Wier, author of Tehano and Late Night, Early Morning
Here is an intricate, complex tale that deftly examines the price of political action—where it comes from, how it sets out to create a change, at what cost, the various characters it seems to attract, how it exacts its price, whether it's a beating by the police or a beating by the extreme right or by the extreme left—how it plays out among the people you love—and finally, whether or not it exacts the change it's meant to.
Geri Lipschultz, reviewer for Ms. Magazine
Excerpt
Alex wasn't sure when the word revolution crept into their vocabulary. Garth used it, but he had always used it; the Russian Revolution was his career, though on his lips it never brought Bolsheviks sweeping across the dark Russian Steppes, the stutter of gunfire or splash of blood, but the dim, heavy thump of library volumes, scrape of chair legs, and squeak of the card catalogue drawer; it smelled not of death, but of dust and dissertation bond. 
In the fall they were still in Limestone. Ted had too many incompletes to graduate, and their room was stacked with books for unwritten papers. He was anxious to be done, though he had another three years of law school, if he went. He was no longer sure. He toyed with running for  National Office, though he complained that Students for a Democratic Society lived in a world of acronyms that no one outside it could decipher. The next day it would be union organizing, the next divinity school and a ministry for social change, and the next law school again. Or maybe he would enlist and go to Vietnam.
"Is that supposed to be some kind of joke?" Stacy asked.
Alex wasn't worried. He would never kill because it was only fair that he be killed; he would never go to war just to prove that in opposing it he was not a coward. It surprised her that he should feel so lost, but she knew what made him say it.
Leah had brought a Viet vet into their circle. His father was a Wallace professor, and though Cal was a couple of years older, Alex remembered his picture from a U-School display case, a smiling boy with a crew cut seated at a table with the championship debate team of 1959. She was haunted by the smile, which had left no trace in the mean flick of his yellow-brown eyes or the sneer that disfigured his face like a scar. He slept indiscriminately with Leah, Tulip, and the waifs Tulip brought home, but there was no tenderness in his address, nor did they seem to expect any. They admired his anger. If he left the bathroom door open or strode into the hall without his pants, scratched his balls or farted at the table, the authority of that anger superseded any bourgeois embarrassment. He knew what the war they opposed was really like, and Ted envied him that knowl­edge of the real world. 
"Rich white boys aren't called to service in Youngstown," Ted pointed out when he decided not to burn his draft card. "Too much poor black meat to go around."
Stacy was outraged. "So why call attention to yourself, is that it?"
"I'm a little tired of symbolic gestures," he said stiffly.
Reviews
Ruth Latta, The Compulsive Reader, March 17, 2021
Jaclyn Bauer, Centered On Books, May 10, 2021
Linda Brinson, Greensboro News and Record, May 30, 2021

Brian Lampkin, Scuppernong Bookshelf: "June Bloomers: New titles from Greensboro and beyond",

O. Henry Magazine

, June 2021

Wilmington Star News, New novel from N.C. author Lee Zacharias revisits '60s radicalism, darkroom photography, July 3, 2021
Trina Hays, Hungry for Good Books, July 3, 2021
Jackie Drohan, Historical Novel Society, 2021
Ms. Magazine, "What a Wonderful World This Could Be": A Tale of Love, Activism and Family in the Turbulent '60s, 7/24/2021
Vicki Lane, Review: "What a Wonderful World This Could Be", 2021

Cynthia Newberry Martin, Review of What a Wonderful World This Could Be, February 24, 2022