Helping Muriel Make It Through the Night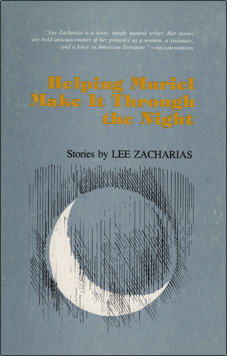 Seventeen years ago, in the back seat of her father's DeSoto, Muriel Moore got a baby, religion, and Milton Moore. Now, failed by all three, she sits and broods over the macaroni casseroles her friends have brought to help her make it through the night.
In these stories by Lee Zacharias we get to know the Muriel Moores, the Rosie Tomatoes, the Doris Bells, and other typical, atypical, ordinary, far-out characters that inhabit these United States. All of the stories bear the stamp "American Made" and impart that special sense of place—what it is like to live in America—that only fiction can give.
Awards
"Consumption" was named a Distinctive Story of the Year in The Best American Short Stories 1976.
Praise
Lee Zacharias has a keen eye, an excellent ear, and when she wants to, a very sharp tongue….Helping Muriel Make It Through the Night introduces a talented and dedicated writer who has, clearly, already arrived and can stand on her own with the best in the business.
George Garrett, author of The Death of the Fox
Lee Zacharias is a sassy, tough, natural writer. Her stories are bold announcements of her presence as a woman, a visionary, and a force in American literature.
William Harrison, author of Burton and Speke
Excerpt
They brought covered dishes to Muriel's. They spread Tupperware on her table and ate baked beans and chocolate layer cake. Janet scratched a spot of icing on her blouse with a fingernail. "He can't get away with it," she said.
"It's the change of life," Betsy said. "Men have it too, you know."
"He'll come back, of course," Charlotte said. "They always do."