Lessons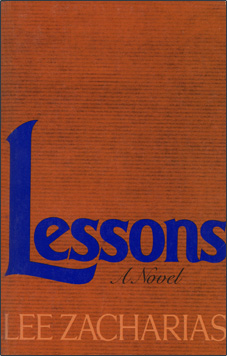 Lessons is a powerful and winning story of one woman's insistence against all doubters that she can have everything. Growing up in a steel town outside Chicago, Jane Hurdle learns from her famous, embittered clarinet teacher that she is a gifted musician—and from her widowed, equally embittered mother that ambition is unforgivable. At the Indiana University School of Music her talent blossoms, and so does her love for handsome Kelly McCullehey, Olympic swimmer and good Catholic boy. Jane's talent promises her fame; Kelly offers her marriage. Jane wants both, in time.
Jilted, expelled from college for "disciplinary reasons," she marries her music theory teacher, Dr. Ben Gabriel—failed pianist, forty-year-old father of three—and becomes a faculty wife at age eighteen.
Fourteen years and a nervous breakdown later, Jane leaves her husband and sets out to prove, one last time, that her mother was wrong—that she can have her life and her music too. After winning a contract with the New York Philharmonic her career seems to be made. But before she can catch her plane to New York, she finds herself in love again. Once more, Jane has to choose. Or does she?
Funny, tragic, sassy, lyrical, Lessons is the impressive debut of a major novelist.
Awards
Winner of the North Carolina Sir Walter Raleigh Award
Praise
Lee Zacharias is both witty and wise. Lessons is a lively and engaging story, full of the conflicts and humor, the feelings and events, of life as it is lived here and now.
Annie Dillard, author of Pilgrim at Tinker Creek
Zacharias's novel has all the earmarks of superb story-telling… She juggles hurt and happiness better than most respected journeymen and transforms her story into a spectacle of feelings. The effect creeps slowly upon the scene and easily puts the reader at the mercy of exceptional quality.
Bob Spitz
Penthouse Magazine
Wonderfully readable, engrossing… a novel of intelligence and vitality, humor and richness… Great storytelling.
Publishers Weekly
What makes one keep reading Lessons is Miss Zacharias's genuine storytelling ability… she has made her character's private fantasies public, by transforming them into music and thus giving them an audience.
The New York Times Book Review
Excerpt
My mother told me I would cut off my nose to spite my face, and when I was thirty-three, to prove it she died.
It was August. I had taken two antihistamines to combat an allergy attack and was lying on my bed in a haze, feeling the parts of my body—my knee, my arm, my heart, my brain—wink off and then on in a contrapuntal rhythm that refused to release me to sleep. In the deep comfort of pillowed space I lost twenty-four years and a thousand miles, and I was nine again, lying on the bed in my old room, breathing through a handkerchief to filter the pollen from the air. The handkerchief was a map of South Dakota, souvenir from a friend's vacation, and the scalloped edge blurred the bottom of my vision with red. Through my window I saw the pale evening sky. In the next room my father was dying. In the living room my mother and brother were watching TV. Its drone mixed with the buzz of a lawn mower next door, the smack of a basketball on a sidewalk, the bark of a dog down the street, and the sounds confused themselves with the stickiness of my sweat on the sheets and the cool feel of the northern state printed on the cotton that covered the lower half of my face.
I was not especially unhappy, and there was nothing in the stew that near-sleep stirs from the senses which seemed out of place. My father had been sick for a very long time. I was impatient for my life to begin. Sleepless and too weak not to sleep, I was feeling the precarious drained calm that follows a storm of sneezes and confuses the hysteria of membranes with a hysteria of mind. I sat up, and a jumble of antennas, rooftops, and wires rose beyond the windowpane. My brother was sixteen. He had a girlfriend and a job after school to pay for his brand-new used car. Any minute now, I thought, he would turn off the TV; he would drive beyond the bounds of rooftops and wires to where mountain ranges rolled into their miraculous place beneath distant cloudbanks of iridescent pastel hues. Any minute now, I thought, picking up the handkerchief, which had floated to the floor, he will knock and ask if I want to go too. Pierre, the capital of South Dakota, was a black star on the cloth, and I had populated the Badlands with nosebleeds, a gaudy splotch of cities that wouldn't wash out. If my brother had knocked that night to say, "Well, Janie, where will it be?" my poor imagination would have carried me no farther than the state of Wounded Knee. We might have gone together to live in the cities I had settled by an accident of blood, but he was still watching TV when I fell asleep in Hammond, Indiana, where we had been stranded by the accident of our family. Any minute now, I remember thinking just before I fell asleep, but when I woke it was already the next day. The first thing I saw as I rolled into my mother's arms was a blade of sunlight on the crumpled handkerchief. Her arms were there because she was shaking me. It was time to get up. My father had died.