Across the Great Lake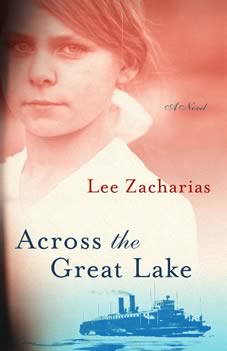 "It was a huge and powerful ship with a tall, handsome pilothouse and big smoking stacks, no place for a girl, though I loved it, I cannot tell you how much I loved it." In her eighty-fifth year, Fern Halvorson tells the story of a childhood journey across Lake Michigan and the secret she has kept since that ill-fated voyage.

As his wife lies dying in the brutally cold winter of 1936, Henrik Halvorsen takes his daughter Fern away with him. He captains a great coal-fired vessel, the Manitou, transporting railroad cars across the icy lake. The five-year-old girl revels in the freedom of the ferry, making friends with a stowaway cat and a gentle young deckhand. The sighting of a ghost ship, though, presages danger for all aboard.
Awards
Winner of the 2020 Phillip H. McMath Post-publication Prize
Winner of a Silver Medal in Literary Fiction from the Independent Publisher Book Awards (the IPPYs)
Winner of the 2019 North Carolina Sir Walter Raleigh Award for the best book-length work of fiction by a North Carolina Writer
Named a 2019 Michigan Notable Book
Named the best historical novel of 2019 by Hungry for Good Books
Named a finalist in literary fiction for the 2018 Foreword Indies
Praise
One of the most intensely written and beautifully conceived novels to come my way in many a season. I will be thinking about these characters for a long, long time. Seldom have I read a story with so much life on every page. Zacharias is a master.
Steve Yarbrough, author of The Unmade World
Lee Zacharias is one of those profoundly rare writers, a natural. Her voice is one you can trust, and her characters are real, moving, and come from the experience of someone who knows what trouble human beings get themselves into.
Craig Nova, author of The Good Son
Excerpt
We went to the ice. That was the year my mother died, but I do not remember her. What I remember is the ice, everywhere I looked, a world made of ice, and then the fire. But first there were the voices. 

"Get up," he said.

"I can't," she said.

"You mean you won't."

"I can't."

Was I listening outside the closed door? Surely my mother taught me better, had told me that eavesdropping was not something a polite little girl would do. Such a strange word, eavesdropping. Did I know it then? Was I already a bad girl? Perhaps she despaired of me, I don't know. We got stuck in the ice, there was a storm, and while we were gone my mother died. My father was not a man of words, and now that so many years have passed, there is no one left to ask whether I was ever a good girl, a girl who might have deserved love, or not.

"There's other women lost a child."

"You don't know."

"I know enough."

A clot of silence seemed to thicken, though perhaps they only lowered their voices, perhaps I simply couldn't hear them.

"For the last time, get up," he said. "You've another child needs tending."

Did she answer? My father was a captain. When he spoke people listened. They did what he said. Perhaps she repeated "I can't," the only memory I really have of her, those two words in her voice. Or perhaps, when my father offered me as a reason for her to get back up and live, she said nothing at all. I had just turned five years old. In the hallway there was a yellow light in a sconce. It was a grand house, set against the hill on Leelanau Avenue, but the light had scorched a spot on the wallpaper, and there was a water stain near a seam, a small brownish lake in the green and gray print. I used to spend hours perusing those blotches, as if imperfection was what my eyes sought from the start, though I don't remember whether I noticed them that night.

"All right then," my father said. "I'm taking the girl."

Reviews
Linda Brinson, Winston-Salem Journal, Sept. 15, 2018 and Greensboro News and Record, Sept. 9, 2018
Ben Steelman, Wilmington Star News, Sept. 15, 2018
Trina Hayes, Hungry for Good Books? (Blog), Sept. 17, 2018
C.P. Lesley, History, Fiction, and Publishing in the Internet Age (Blog), November 2, 2018
Goodreads reviews for Across the Great Lake
Buy now on Amazon or through an independent bookstore. Currently available in hardcover, paperback, or as an e-book.